BUSY SEASON AHEAD!! Check back regularly for updates!
Jowl Bacon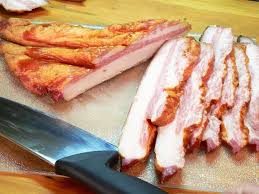 1 Smoked Jowl | Approx 3.7 pounds @ $12.00/pounds = $44.40 + $0.00 Assembly
This hard to find, and incredibly delicious cut of meat comes from the cheek of the hog. Traditionally used as a staple in many southern meals- restaurants and home chefs alike are catching on quickly to the versatility and unbelievable flavor in this cut. Cured, and Smoked- its an excellent addition to your favorite dishes, or sliced and fried like bacon.
Website and Online Farm Store Powered By
Eat From Farms