BUSY SEASON AHEAD!! Check back regularly for updates!
100% Pure Maple Syrup
100% Pure New York Maple Syrup handcrafted right on the farm. Just as Winter is coming to an end, when the nights are still freezing but the days are warming up, the Sugar Maples start to produce sap. We look forward to this time of year, as we gather around a warm fire with some of our closest friends. Cooking down gallons and gallons of this clear, nearly tasteless, sugar water into a sweet and sticky dark amber syrup. Bottled in 8oz or 16oz glass jars.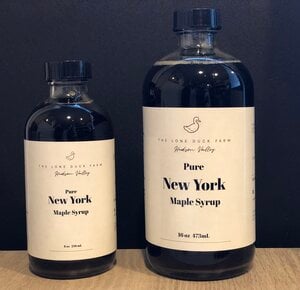 Website and Online Farm Store Powered By
Eat From Farms