BUSY SEASON AHEAD!! Check back regularly for updates!
Pork Rib Roast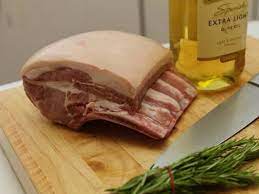 | | |
| --- | --- |
| 1 Rib roast | Approx 3.5 pounds @ $12.75/pounds = $44.63 + $0.00 Assembly | Out of Stock |
The pork rib roast (or rack of pork) is the pork equivalent of a standing beef rib roast or a rack of lamb. A pork rib roast is a simpler version of a pork crown roast, which is a pork rib roast tied into a circle. It comes from the rib area of the loin, so it contains a little more fat making it very flavorful.
This cut makes an elegant centerpiece for a special occasion dinner.
Website and Online Farm Store Powered By
Eat From Farms