BUSY SEASON AHEAD!! Check back regularly for updates!
Maple Syrup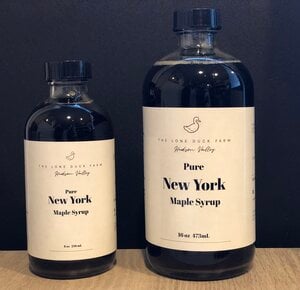 | | |
| --- | --- |
| 1 Bottle | 16 oz bottle = $20.00 + $0.00 Assembly | Out of Stock |
| 1 Bottle | 8 oz bottle = $12.00 + $0.00 Assembly | Out of Stock |
Beautifully handcrafted New York Maple Syrup. Just as winter is nearing its end, when daytime temperatures reach above freezing, we head out to carefully select Sugar Maples from our abundant forest. We spend our days collecting buckets of nearly flavorless sap water, and our nights around a warm fire with our closest friends, cooking it down to a beautiful amber syrup. Filtered and bottled in glass, this natural sweetener goes perfectly with your morning pancakes, drizzled over ice cream, as a savory glaze and as a local favorite, with a glass of Whiskey.
Website and Online Farm Store Powered By
Eat From Farms